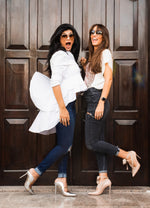 "Trust the timing of your life"
Back in 2011 when we met, both expats living our best life with the Dubai dream in a boutique luxury events agency as colleagues which quickly turned to friendship.
Five years later the universe conspired for us to meet again, now in the corporate world working the energy sector, but this time nesting into a family life as now working mothers.
We believe the universe conspires to give you what you want and picks the timing accordingly - our past has set us up for our future and our paths crossed once more to set our creative dream alive.
Key Considerations
Sustainability and Environment: We utilise 100% biodegradable latex balloons as part of our installations and ensure responsible disposal of our balloons. We try to encourage and adopt best practice in this sphere to mitigate the impact on the
Creative Counsel: As balloon stylists we do not adopt a "one size fits all" approach and our passion for creativity allows us to keep innovating in terms of design based on brief. We would endeavour to be as bespoke per theme and occasion as Quality and client servicing is fundamental to what we do.
Competitive Pricing: We understand the need to be cost conscious, especially in our current Therefore, we try our best to accommodate that within our pricing.
Covid 19 Precautions: We are extremely cautious about the government mandate and advice regarding The build will be constructed within a safety conscious manner. This would be discussed in more detail upon confirmation of deliverables.
We bring to you Geraldine and Zahra...